Depart: Thursday, September 27, 2018 - 12:15 PM
Return: Thursday, September 27, 2018 - 7:15 PM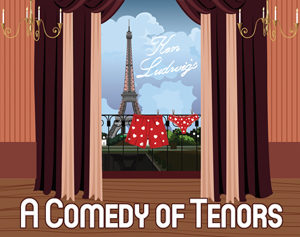 Join JH Travel for a fun, matinee comedy show at Old Creamery Theatre followed by an evening meal at Valerie's Fine Dining at the Linden House in Lynnville, IA.
This mile a minute comedy hits all the high notes when over-the-top opera stars, hot and cold running lovers, mistaken identities, and the "Concert of the Century" collide in a Paris hotel room. Hysterical mayhem takes the stage in this brand new play that will most certainly have you rolling in the aisles!
Our evening meal will be hosted by Valerie which will include a cup of soup, side salad, Flower Pot Bread & baked potato with main entree, drink and cheesecake with raspberry puree for dessert. A main entree choice will need to be given when making a reservation in which the entrees are: 1). Breaded Boneless Pork Chop 2). Chicken Breast Chardonnay with Mushroom Sauce. 
Don't miss this fun afternoon & evening! Call today to make your reservations!
Depart: 12:15 p.m.
Return:  7:15 p.m.
Cost Per Person: $109.00
Reservations and payment due by September 7, 2018
Depart: Thursday, September 27, 2018 - 12:15 PM
Return: Thursday, September 27, 2018 - 7:15 PM
Trip tags:
Comedy
,
Food
,
Linden House
,
Old Creamery Theatre
ID:986