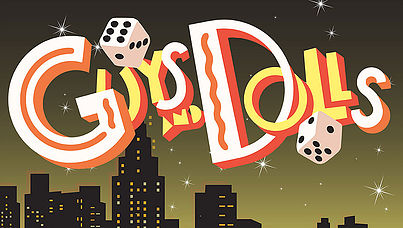 Depart: Wednesday, October 28, 2020 - 9:15 AM
Return: Wednesday, October 28, 2020 - 6:45 PM
October 28, 2020 (Wednesday)
Would you gamble with Luck & Love?
Based on the award winning film starring Frank Sinatra and Marlon Brando, Guys & Dolls is an oddball, musical romantic comedy involving the unlikeliest of Manhattan pairings: a high rolling gambler and a puritanical missionary, a showgirl dreaming of the straight-and-narrow and a Craps-game manager who is quite the opposite. Gambler Nathan Detroit, tries to find the cash to set up the biggest craps game in town while the authorities breathe down his neck; meanwhile, his girlfriend and nightclub performer, Adelaide, laments that they've been engaged for fourteen years. Nathan turns to fellow gambler, Sky Masterson, for the dough, and Sky ends up chasing the straight laced missionary, Sarah Brown, as a result. From the bustle of Times Square to the dance clubs of Havana to the sewers of New York City, Guys and Dolls demonstrates the great lengths to which a guy will go when he truly falls in love with a "doll". Featuring some of Frank Loesser's most memorable tunes, including "Luck Be a Lady" and "Sit Down You're Rockin' the Boat" and more!
Join JH Travel for this fun, musical comedy at Circa 21 Dinner Playhouse in Rock Island, IL!
Depart:  9:15 a.m.
Return:  6:45 p.m.
Cost Per Person:  $143.00
Reservation and payment due by September 22, 2020
Depart: Wednesday, October 28, 2020 - 9:15 AM
Return: Wednesday, October 28, 2020 - 6:45 PM
Trip tags:
Circa 21 Dinner Playhouse
,
circa21
,
Comedy
,
musical
,
Romantic Comedy
ID:1280