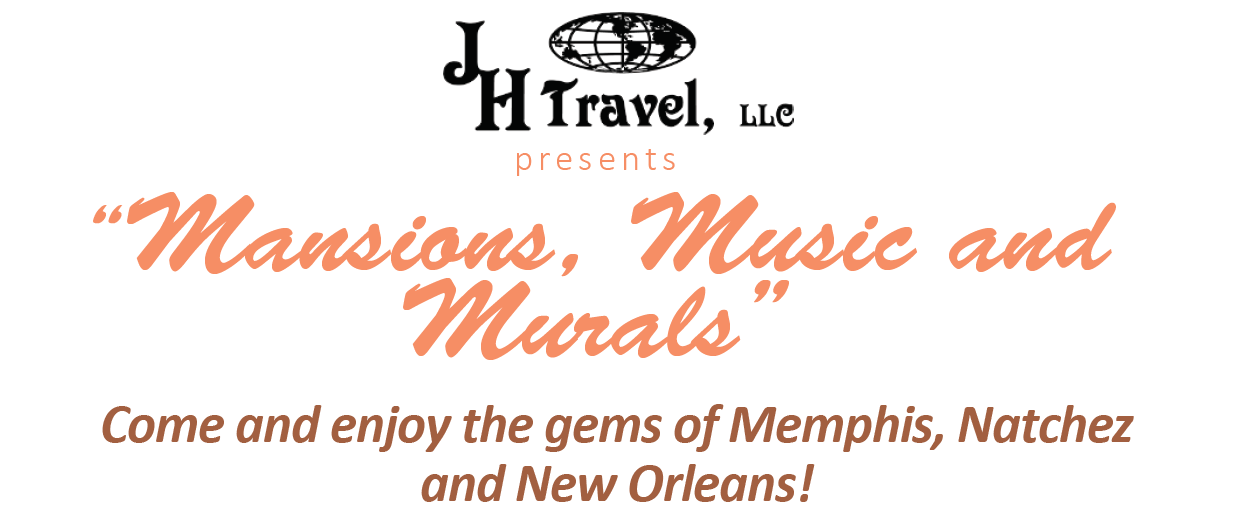 Depart: Sunday, October 7, 2018 - 12:00 AM
Return: Sunday, October 14, 2018 - 11:59 PM
Day # 1 – Sunday, October 7, 2018
Today's travels take us through Iowa, Missouri and into Hayti, MO for our overnight stop. After checking into our hotel enjoy the kick back reception and the balance of your evening is free.
Day #2 – Monday, October 8, 2018
This morning we make our way to Memphis, TN to Graceland, the home of Elvis Presley. Here you will tour Graceland Mansion which continues to present the personal side of Elvis' life. Time will be given to check out the all new entertainment complex then we travel part of the Natchez Trace as we make our way to Natchez, MS our home for the next two nights. Your evening is free to explore downtown Natchez. (B)
Day #3 – Tuesday, October 9, 2018
A local guide joins us this morning to share the history of the oldest city on the Mississippi River, Natchez. Following our local tour lunch awaits us at the newly opened Choctaw Hall, which is an impressive four floor mansion that was built around 1836 featuring a blend of Greek Revival and Federal styles. Frogmore Plantation is our next stop where cotton is still farmed today and learn the stories of Civil War soldiers, cotton kingpins, slaves and sharecroppers. Late afternoon finds us at Monmouth Plantation for dinner and a tour. This early 19th century antebellum mansion reflects all that is charming to the south. After a full day of touring we return to our hotel. (B,L,D)
Day #4 – Wednesday, October 10, 2018
After an included breakfast our journey continues as we make our way to New Orleans, LA. We will visit the World War II Memorial. This must see museum illuminates the American experience during World War II. To complete your museum visit we have reserved seats for the 4D movie Beyond All Boundaries narrated by Tom Hanks. Following our check in at the hotel for two nights we join our
traveling companions for a special dinner cruise aboard the Steamboat Natchez Stern Wheeler with great food, fun and music. (B,D)
Day #5 – Thursday, October 11, 2018
Breakfast is included at the hotel before our local step on guide joins us for a riding tour. We will experience an overview of the city and discover why it is called "The Big Easy." This afternoon you have free time to visit Café du Monde, Jackson Square, the French Quarter or return to the hotel to relax before dinner. This evening dinner reservations have been made at Mulates, known as the original Cajun restaurant famous for preserving and celebrating food, music and culture. (B,D)
Day #6 – Friday, October 12, 2018
We visit one last attraction, Mardi Gras World, before our New Orleans departure. Tour this working warehouse where floats are made for Mardi Gras parades. It is time to bid farewell to New Orleans and follow the Mississippi River north and a visit to the Vicksburg National Military Park. After an orientation at the Visitors Center we will have a hosted tour of the battlefield and learn the history of this important Civil War campaign. Overnight accommodations are in Ridgeland, MS. Your evening is free to enjoy the kick back reception offered at the hotel. (B)
Day #7 – Saturday, October 13, 2018
Our journey continues north into Cape Girardeau, MO. After checking into our hotel we have reservations at Glenn House, a restored historic treasure for dinner and a tour. This Victorian home includes the architecture, furnishings, clothing fashions and more of the 1860-1900 period. (B,D)
Day #8 – Sunday, October 14, 2018
This morning we visit the Mississippi River Tales Mural located on a portion of Cape Girardeau's flood walls. Covering nearly 18,000 square feet, this 1100-foot-long mural features 24 historically themed panels that vividly portray Cape Girardeau's rich history and heritage. The final leg of our journey continues today with a lunch stop included in St. Charles, MO. We arrive home in the late afternoon with great memories of our "Mansions, Music and Murals Adventure". (B,L)
Your Tour Includes*:
• Deluxe Motorcoach Transportation
• 7 Nights' Accommodations
• Tri-State Travel Tour Director
• Graceland
• Natchez City Tour with Local Guide
• Choctaw Hall Tour and Lunch
• Frogmore Plantation
• Monmouth Plantation Tour and Dinner
• World War II Museum with Movie
• Steamboat Natchez Dinner Cruise
• New Orleans City Tour with Local Guide
• Dinner @ Mulates
• Mardi Gras World
• Vicksburg National Military Park Tour
• Glenn House Tour and Dinner
• 7 Breakfasts and 1 Additional Lunch
• Luggage Handling For One Suitcase Not To Exceed 50#
• Taxes and Gratuities on Included Accommodation, Attractions, Meals, Local Step on Guides
Not Included: Travel Protection Plan Or Any Items of a Personal Nature
Payment/Cancellation & Refund Policy:
• $200.00 per person deposit due with reservation
• Balance of payment due on or before August 1, 2018
• Cancellations received on or before August 1, 2018 will receive a full refund
• Cancellations received after August 1, 2018 and prior to August 15, 2018 will be assessed a $200.00 per person cancellation fee
• Cancellations received after August 15, 2018 and prior to September 1, 2018 will be assessed 50% of the per person tour price
• Cancellations received after September 1, 2018 will forfeit the entire tour price
Travel Protection Plan is available and strongly recommended. Premium is non-refundable unless the entire tour is cancelled. Any surcharges and/or tax increases received from suppliers for this package (Airlines, Cruise Companies, Hotels, etc.) may result in an increase in the per person price of your tour package. For those individuals who have purchased the Travel Protection Plan,
this may also result in an increase in your Travel Protection Plan premium.
*Tri-State Travel reserves the right to change any arrangements listed in this itinerary. Should conditions necessitate changes: substitution of equal value or cancellations of the arrangements may occur.
*Tri-State Travel reserves the right to add any fuel surcharges that we receive from all of our vendors i.e.: airlines, cruise lines, motorcoach companies, etc. Additional costs may be added any time prior to travel.
Responsibility Clause:
Tri-State Travel and JH Travel in offering this tour, do so only as agents as outlined in this brochure. Therefore, Tri-State Travel and JH Travel shall not become liable or responsible for any loss, injury or damage to person, property or otherwise in connection with any accommodations, transportation or other services or resulting directly or indirectly from acts of God, dangers incident to the waters, fire, breakdown in machinery or equipment, acts of governments or other civil disturbances, strikes, riots, thefts, pilferage, defaults, delays, or cancellations of or changes in itinerary, accommodations or schedules. The right is reserved to decline, to accept or retain any person should a person's health, mental or physical condition or general deportment impede the operation of the tour or the rights or welfare or enjoyment of the other passengers and a refund of the unused land tour services is the limit of the agent's liability should such a person be required to terminate the tour. The right is reserved to withdraw the tour at any time and liability is limited to refund of all monies received. No refunds will be granted for unused portions of this tour unless arranged with the operator's approval in writing in advance. Application for membership and / or posting deposit for this tour shall constitute the participant's consent to the above terms and conditions.
Your Tour Price:
$2,129.00 PER PERSON – 4 TO A ROOM
$2,209.00 PER PERSON – 3 TO A ROOM
$2,349.00 PER PERSON – 2 TO A ROOM
$2,989.00 PER PERSON – SINGLE
Depart: Sunday, October 7, 2018 - 12:00 AM
Return: Sunday, October 14, 2018 - 11:59 PM
Trip tags:
Mansions
,
Murals
,
music
ID:933