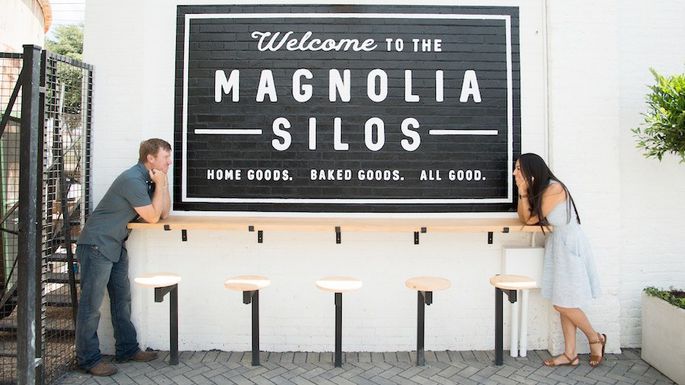 Depart: Sunday, October 13, 2019 - 6:00 AM
Return: Thursday, October 17, 2019 - 6:30 PM
Join JH Travel for a visit to the Pioneer Woman Mercantile owned by Ree & Ladd Drummond in Pawhuska, OK and Magnolia Market owned by Chip & Joanna Gaines of Waco, Texas!
Our first day will be a travel day with an evening meal (included) before retiring at our overnight accommodation in Ponca City, OK. On Day two we will visit The Lodge which is the Drummond's family guest house and the production facility for Ree's Food Network show (this visit is depending on her filming schedule) or plan B is to have a step on guide join our coach for a visit to Pawhuska to discover the community where Ree & Ladd Drummond live & work. We have reservations at The Mercantile for lunch (included) followed by free time at The Merc before traveling toward Ardmore, OK. On Day 3 after departing the hotel we will have free time at the Ardmore Emporium with time for lunch and then onto Waco! Magnolia Market at the Silos location welcomes our group with time to shop along with the unique experience of picking one of the food trucks for an evening meal & relax for the night as we have a busy next day. Rise & shine early on Day 4 for a fun day that begins with breakfast at The Magnolia Table (included) followed by a tour that will include: Magnolia Warehouse stop, 2nd Presbyterian Church (just purchased by Chip & Joanna to be remodeled into a wedding chapel), Harp Design, JDH Iron Design, drive by homes that have been completed by Chip & Joanna as in Scrivano House, Beanstalk Bungalow, Cottonland Castle, Catastrophe House, Little House on the Prairie and see well known sites in the Waco area. Return to Magnolia Market for lunch & free time before we board the coach to Guthrie, OK. Our last day is a travel day back to Newton with great memories of "Pioneer Woman & Magnolia Market & More" adventures!
Tour Includes: motor coach transportation, overnight accommodations at Hampton Inn locations throughout the trip, 6 meals included (4 breakfasts, 1 lunch & 1 evening meal), tour fee on Day 2 & Day 4 along with step on guide gratuities, motor coach driver gratuity & LOTS OF FUN!!!
(Not Included: luggage handling)
Depart: 6:00 a.m. – October 13, 2019
Return:  6:30 p.m. – October 17, 2019
Cost Per Person:         $765.00 – Quad                       $803.00  – Triple
$873.00 – Double                    $1,099.00 – Single
A deposit of $200.00 is due at the time of reservation. The final balance is due by September 3, 2019.
Depart: Sunday, October 13, 2019 - 6:00 AM
Return: Thursday, October 17, 2019 - 6:30 PM
Trip tags:
Chip
,
Gaines
,
Joanna
,
Magnolia Market
,
Pioneer Woman
ID:1224