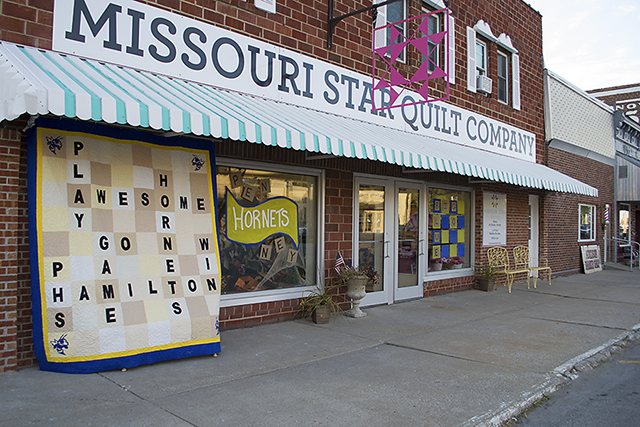 Depart: Wednesday, May 20, 2020 - 6:00 AM
Return: Wednesday, May 20, 2020 - 9:30 PM

Join JH Travel for a day of traveling with friends to see the most up to date quilting options available where a quilter can shop by collection, shop by style or shop by designer which is at Missouri Star Quilt Company in Hamilton, MO.  The company is family owned and has purchased many of the closed stores in this small town and remodeled the empty buildings to accommodate the many fabrics & choices they offer.
Upon arrival at the Missouri Star Quilt Company a greeter will welcome our group, a welcome bag including a map, MSQC pattern & goodies will be given to each quilter along with a catered lunch after our trunk show with Jenny Doan. Jenny will begin with several different quilt blocks as she explains the different quilting techniques as she does regularly on her many tutorials. Free time will follow the trunk show & lunch.
Sadly, we need to leave the Missouri Star Quilt Co to begin our trip back to Newton.  On our way home we will have an evening meal at the Quilt Country Restaurant in Lamoni, IA where an evening meal will be served with salad, fried chicken, mashed potatoes with gravy and caramel apple bread pudding for dessert. We then board our Hawkeye Stages coach to continue our trip back to Newton with fond memories of our day in Hamilton! Hope to have you join us for a day of discovery at the Missouri Star Quilt Company!
**PLEASE NOTE: DUE TO A CHANGE IN POLICY OF MSQC PLEASE MAKE YOUR RESERVATIONS PROMPTLY ON THIS TRIP. WE CAN NOT GUARANTEE IF SPACING IS AVAILABLE FOR ADDITIONS AFTER THE DEADLINE.
Depart:  6:00 a.m.
Return:  9:30 p.m.
Cost Per Person:  $164.00  (Same great price as two years ago)
Reservation and payment due by April 1, 2020
Depart: Wednesday, May 20, 2020 - 6:00 AM
Return: Wednesday, May 20, 2020 - 9:30 PM
Trip tags:
Missouri
,
Quilting
ID:1330