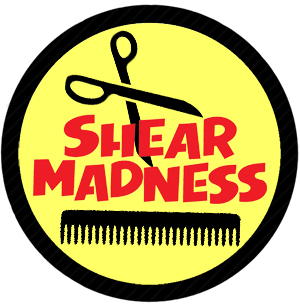 Depart: Thursday, August 4, 2016 - 12:15 PM
Return: Thursday, August 4, 2016 - 6:45 PM
August 4, 2016 (Thursday)
You will absolutely love this show! The Old Creamery Theatre presented this production in August, 2015 and our group thought it was hilarious and the different scenarios played were awesome!
Back by popular demand! This unique comic-whodunit takes place today in the "Shear Madness" hairstyling salon. During the course of the action, a murder is committed and the audience gets to spot the clues, question the suspects, and solve the funniest mystery seen on stage.  The outcome is never the same, which is why many audience members return again and again to the scene of the mayhem.  Voted "Best Comedy of the Year" seven times by the Boston Globe.
After the comedy show our evening meal will be served family style at the Ronnenburg Restaurant with all our favorite Amana fixins! Don't miss the oven baked steak, ham, fried potatoes and of course . . . dessert!
Don't miss this comedy production and as always, enjoy the premium seating close by the stage so you won't miss a clue to this mystery!
Depart:  12:15 p.m.
Return:  6:45 p.m.
Cost Per Person:  $103.00
Reservation and payment due by July 15, 2016
Depart: Thursday, August 4, 2016 - 12:15 PM
Return: Thursday, August 4, 2016 - 6:45 PM
Trip tags:
Comedy
,
theater
ID:628