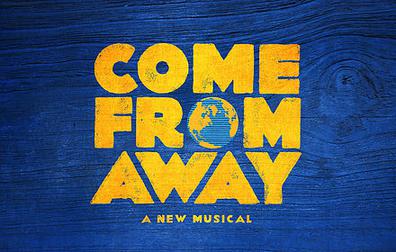 Broadway's COME FROM AWAY is a Best Musical winner all across North America!
This New York Times Critics' Pick takes you into the heart of the remarkable true story of 7,000
stranded passengers and the small town in Newfoundland that welcomed them. Cultures clashed
and nerves ran high, but uneasiness turned into trust, music soared into the night, and gratitude
grew into enduring friendships.  Newsweek cheers, "It takes you to a place you never want to
leave!"
On 9/11, the world stopped.
On 9/12, their stories moved us all.
Matinee show will begin at 2:00 p.m. and following this awesome performance Red Lobster in
West Des Moines will host our group for an evening meal with several choices of main entrees
including seafood, pasta or chicken, side dishes, cheesy biscuits and of course. . . dessert!
We already have several signups for this trip – so don't wait too long to make your reservation!
Rick & I along with some of our travelers had the opportunity to see this production while in
New York City and we all LOVED IT!!
Depart: 12:15 p.m.
Return: 7:30 p.m.
Cost Per Person: $233.00
($100.00 NON REFUNDABLE DEPOSIT IS DUE AT THE TIME OF RESERVATION
AND THE REMAINDER IS DUE BY OCTOBER 1, 2022).
Reservation and payment due by October 1, 2022