Depart: Tuesday, July 17, 2018 - 6:45 AM
Return: Tuesday, July 17, 2018 - 8:45 PM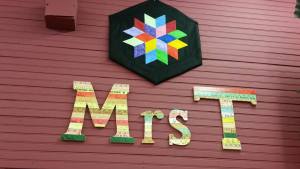 Ladies! We have an exciting day planned for you that includes: a style show, hands on project (no sewing required), shopping time, a visit to an apple orchard with program & displays, gift ideas shared and a great time with friends!
Our day begins with brunch arranged by Mrs. T's Mercantile in Vincent, IA where Tonya will be decorated for a Summer Tea Party! Our brunch menu includes: egg casserole, fruit with muffin and coffee/hot tea. A fun hands on project follows the meal and if you are a quilter check out Mrs. T's Mercantile for fabric & quilting notions. Onto Tea Thyme at Sadies & Thyme to Shop in Ft. Dodge where a choice of four main entrees will be given and of course. . . a slice of her famous pie for dessert. A short program showing some delightful choices from their gift shop highlighting the perfect gift for that hard person to buy for on your list! The Community Orchard in Ft. Dodge is next on our itinerary where Bev, the owner will welcome our group. Shown will be their apple peeler that peals 80 apples in one minute and a cooking class on apple dumplings & dough rolling while other travelers will be shopping in the retail area. A special apple turnover will be packaged and given to each traveler to be enjoyed later.
Our final town that will be visited on our annual "Tea Room Trip" is Jefferson, IA. The first group will head to Angie's Tea Garden for an evening meal before traveling across the square for a program entitled "Multiple Ways to Dress Up that Little Black Dress" and a short style show at Addies with sometime in The Printer's Box & Sensibly Chic to check out their gift ideas and home decor.
Well, time to head back to Newton with fond memories of our 2018 "Tea Room Trip"!
Please sign up quickly as we have limited space at the tea rooms! Mark your calendar, call or email your reservations today! If the need arises a second coach will be added only after the first 40 reservations are taken. Reservations WILL NOT be changed between coaches.
Depart:  6:45 a.m.
Return:  8:45 p.m.
Cost Per Person:  $154.00
Reservations and payment due by June 22, 2018
Depart: Tuesday, July 17, 2018 - 6:45 AM
Return: Tuesday, July 17, 2018 - 8:45 PM
Trip tags:
Food
,
Shopping
,
tea room
ID:1060